Malowanie rafy koralowej
Malowanie w pokoju dziecięcym. Ponoć oceaniczne głębiny na naszej Ziemi są zbadane w mniejszym stopniu niż odległe kosmiczne przestrzenie i do dzisiaj nie znamy wszystkich istot, które żyją wśród ciemnych wód naszej planety. Eksploracja oceanów stanowi więc nadal duże wyzwanie dla naukowców i daje im duże pole do popisu. Nie zanurzajmy się jednak od razu na duże głębokości zimnych wód – to zadanie pozostawmy ambitnym naukowcom – na początku będzie idealnie, jeśli poznamy mieszkańców ciepłych wód Wielkiej Rafy Koralowej.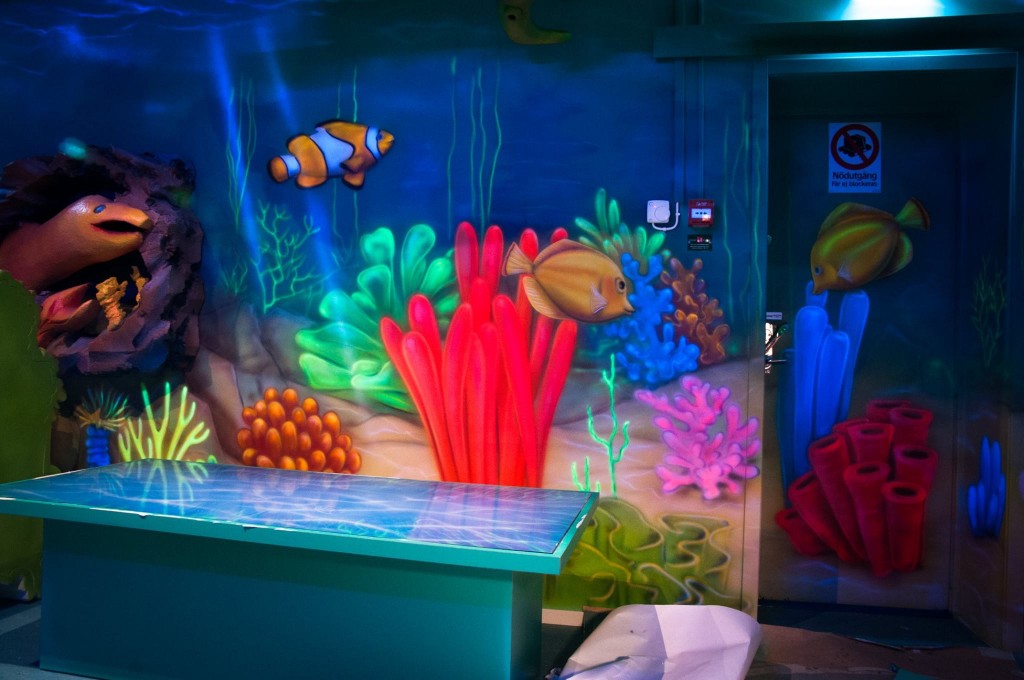 Barwna rafa koralowa i jej mieszkańcy zawładnęli każdą ścianą – prezentujemy oceaniczny mural. Kto więc chce zanurkować w  ciepłej wodzie i zobaczyć podwodne cuda?Kapitanie! Misja zakończona! Osiągnęliśmy pełne zanurzenie! Możemy więc już obserwować rafę koralową i podwodne życie. Dookoła widać bowiem ukwiały w najróżniejszych egzotycznych barwach, bogatą roślinność, wiele bajecznie kolorowych ryb o różnej wielkości i kształtach, rozgwiazdy, a w polu naszego widzenia znalazły się ponadto zarówno wesołe delfiny, jak i ogromny żółw. Morska toń pięknie kontrastuje z miękkim żółtym piaskiem. W ciepłych wodach tętni tak obce człowiekowi życie, a jednocześnie tak bujne i zróżnicowane. Nic więc dziwnego, że tak bardzo nas ono interesuje i pociąga. Ale nie wszyscy mają sposobność zanurkowania w morskich głębinach. Każdy może jednak spojrzeć na malowidło ścienne.
Ocean w pokoju dziecka – malowanie rafy koralowe
Taki niezwykły, oceaniczny mural zagościł na czterech ścianach bawialni. Również sufit został pomalowany i włączony do graffiti. Dzięki zastosowaniu fluorescencyjnych farb udało się uzyskać udaną iluzję morskich głębi. Kolorystyka jest niezwykle nasycona, przeważający morski odcień niebieskiej barwy zgrabnie kontrastuje z żółtym piaskiem, a te podstawowe barwy uzupełnione są całą paletą innych, równie żywych odcieni. Mural jest trójwymiarowy, poprzez zastosowanie perspektywy pomieszczenie wizualnie powiększyło się w każdym możliwym kierunku. Istotna jest tu także gra światła i cieni. Malowidło ścienne ma dynamiczny charakter, zwierzęta uchwycone są w ruchu, wydaje się także, że woda mieni się i drga, a ukwiały i korale wykonują podwodny taniec.
Taki mural może nie tylko stanowić trafioną aranżację pokoju, ale również pozytywnie i stymulująco działać na rozwój dzieci. Nasze pociechy mogą zwiększyć zainteresowanie życiem naszej planety oraz zacząć poszukiwać odpowiedzi na nurtujące ich pytania. Tak więc również tutaj nauka idzie w parze z zabawą, gdyż bez wątpienia najlepiej malowidło będzie wpływało na chęć do zabawy i dobrą atmosferę. Podwodne życie może być doskonałym pomysłem na dekorację pokoju naszych milusińskich i pewien jego wycinek może zagościć właśnie tam.
Podwodny świat w pokoju dziecięcym
Bajecznie kolorowe ukwiały i koralowce, rozgwiazdy, egzotyczne ryby o różnej wielkości i kształtach, delfiny oraz ogromne żółwie morskie – to wszystko moglibyśmy zobaczyć u północno-wschodnich wybrzeży Australii, gdybyśmy tylko umieli nurkować z butlą. Dobrym rozwiązaniem byłby również batyskaf. Natomiast mural jest optymalnym rozwiązaniem dla wszystkich, aby bez wielkiego wysiłku przenieść się do tak osobliwego i całkowicie dla nas obcego świata. Światło pięknie gra na wodzie, bujne życie kwitnie, zwierzęta majestatycznie pływają. Nic dziwnego, że morza i oceany zawsze pasjonowały i intrygowały ludzi.
Malowanie rafy koralowej w pokoju dziecięcym
Malowidło ścienne wykonane w bawialni